Introduction 
Mini Surveys App in IPERA Starling is used to send survey questions to the end users while connecting to the guest Wi-Fi. It is helpful to collect more information from the end-users during their second visit onward. Each business is interested in different preferences of their customers and would like to know more about them. An F&B investment company may have interest to introduce a new cuisine, therefore may get feedback from their customers that are visiting existing venues. 
To view the list of Mini-Surveys select Engage > Mini-Surveys
Create New Mini-Survey
To create a new Mini-Survey click on the 
  button.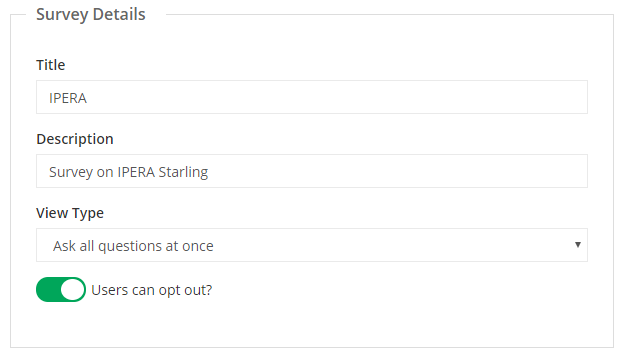 Title: Name of the Mini-Survey
Description: Details about the Mini-Survey
View Type: How the users get questions all at once or one by one
if the Users can opt out is checked then the end users can skip the Mini-Survey without answering responding
There are three types of questions available in the Mini-Survey as below. 
Rating: Rating questions address a quick feedback about a service, using a common scale
Dropdown: Max. 5 options of questions helps to understanding end-user preferences for future communication
Text box: An open-ended feedback text field that you may display along with Rating question to understand the underlying reason 
Once completed it is possible to preview the survey before publishing it
It is important that once a Mini Survey is published, it is not possible to make any changes