Introduction
Retaining Campaigns is used to send promotional messages to visitors who have not been visited for a certain time duration. This is useful to retain customers again and remind them to visit back with an offer or voucher coupon.
To open Retaining Campaigns select Engage > Retaining Campaigns
 Click on 
to get the following options for the existing triggered campaigns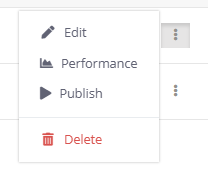 Edit: Edit the selected campaign 
Performance: Check the performance of the campaign 
Publish/Unpublish: Publish if the campaign is not published to be active or unpublish to deactivate the campaign
Delete: Delete the campaign permanently
Create Retaining Campaign 
To add a Retaining Campaign, click on the 
 button

Campaign:
Title: Name of the Campaign
Running Dates: start date and end date of the Campaign
Status: Status of the Campaign (draft, publish, closed)
Audience:
Visits more than: Minimum number of visits that required to be eligible for this campaign 
Period: Frequency of the campaign to be executed 
Re-engage: End-users who have not visited for N number of day/s
Locations: Locations where the campaign will be covered
Segment: Segment (defined under Advanced Reports > Segment Builder) that the campaign will be covered 
Gender: Gender that the campaign will be covered
Age Group: Age range that the campaign will be covered
Birthday: If enabled then only end-users who have birthday will receive this campaign on their birthday   
Communication
Campaigns are sent to end-users based on their preferred language. The default campaign message is delivered in the English language. Language option allows communicating with end-users through their preferred language if you have enabled multiple languages on Splash Pages.
Select your communication channel (s) including SMS, Email and Push Notification. Push Notification option works for those customers that have implemented the Starling Mobile App SDK in their Mobile App.
You may change the order of the communication channel. If SMS is the priority communication channel for this campaign, then any customer that has mobile number record in Guest database will receive SMS message rather than an e-mail message.
Finally, once it is all set, click the Save button to save your campaign
Campaign SMTP Settings
Click  
  button in the email section under the communication to define SMTP settings for E-mail communication.
Performance of the Triggered Campaigns
To check the performance of the triggered campaign select Performance option from the options menu of the campaign.