Introduction
Splash Ads are basic promotional advertisements that can be inserted into the Splash Page. Splash Ads are available in image or text format.
To open Splash Ads select Campaigns > Splash Ads
Click on
to get the following options for the existing Splash Ads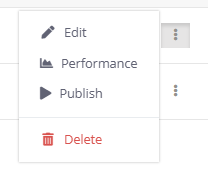 Edit: Edit the selected advertisement
Performance: Check the performance of the advertisement
Publish/Unpublish: Publish if the advertisement is not published to be active or unpublish to deactivate the advertisement
Delete: Delete the advertisement permanently
Create Splash Advertisement
In order to add a Splash Ad click the create button.

Title: Name of the Splash Advertisement
Type: Type of Splash Advertisement (Text/Image)
Text: Text to be displayed in the advertisement
Image: To upload the image for Splash Advertisement
URL: Link to be redirected if the end-user clicks on the Splash Advertisement
Method: The method that the Splash Ad visibility will be decided
Time: Splash Ad will be visible for the defined date range in the Date
Impression: Splash Ad will be visible until the number of impressions that defined in the Condition
Clicks: Splash Ad will be visible until the number of clicks that defined in the Condition
Status: Draft or Published
Finally, in order to publish the campaign click on the Save button.
Performance of the Splash Ads
To check the performance of the Splash Ads select Performance option from the options menu of the Splash Ad.
Select the date range that performance needs to be shown
Click on

to change the graph style (Bar/Column/Line/Spline/Scatter)
Click on

to export the data
Click here to see about how to add splash ads to the splash page