Introduction
The Splash Page is the web portal where the end-user will be redirected, after connecting to the IPERA Guest Wi-Fi system.  There are two types of Splash pages;
Pre-Login page -  This is the first page appears when end-user connects to the Wi-Fi with venue branding and Wi-Fi login options including
Post-Login page - The Post-login page is your marketing page where you provide your offers or ask end-users to Like / Follow your business. 
To open the list of splash portals, select Internet > Splash Pages
To create new splash portal, click on the
 button.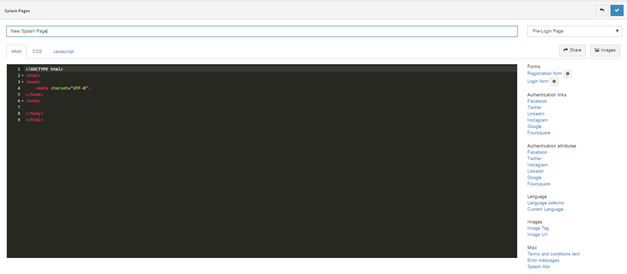 It is possible to share the page link with another person to ask their feedback through  
 button
Splash Page Components
HTML Tab - This is where the page HTML code is defined and linked to other sources such as images, JavaScript and CSS files
Custom CSS Tab - HTML code calls Custom CSS in the background. Any custom styling that are required to perform on your page design should be defined here such as skin colors, etc.
JavaScript Tab - This is an optional tab for advanced JavaScript requirements that might be required 
Preview Tab - After competing your HTML page, you may want to preview it before publishing it. It is also possible to share the preview page link with another person to ask their feedback using  button
Preview Splash Portal in Different Devices
Once the design phase is completed it is possible to preview the page in different device modes by pressing
 button.