To manage your end-users, select Organization > Guests menu

Create a Guest
Click on

 button
Fill guest details as follows and click the Save
 button
Location: The Location where this guest is located.
Name: The name of the guest (includes first and last name)
Email: The Email of the guest
Birthday: The Birthday of the guest
Gender: The gender of the guest
Phone: The phone of the guest
Nationality: The nationality of the guest
Direct Login: Indicates if the guest can directly use the service without login
Find a Guest
From the filters above enter the required criteria (Ex. MAC address) then click the Search 

button  List of matched guests appear, to view a guest details click on the guest Name.
Guest Profile Information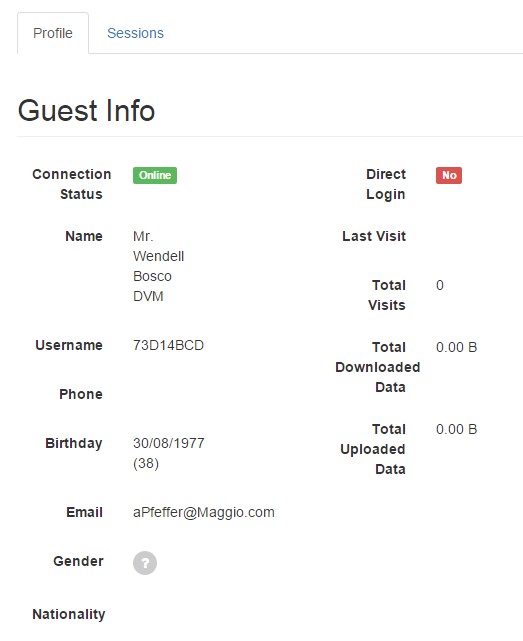 Connection Status: indicates if the guest is currently using the service
Username: Login Credentials that is used to connect to the service
Last Visit: Last time the service was used by that guest
Devices: List of devices details used by that guest
Access Codes: Access Codes assigned to that guest
Sessions Tab
Provides Sessions information for each time the Guest used the service and the current connection status for each session.
Edit Guest Details
Select the username then click on the Edit
 button, update the required guest details as in adding new guest and click save button.
Generate Access Code for the Guest
Open guest details and click on New Code button
Access Code will appear on the screen as Message box

After close the message box the code appears in the Access Codes list