Introduction
Triggered Campaigns (Proximity Marketing) is a feature that allows to set up campaigns that are triggered based on end-users interaction with the venue. Campaigns are triggered and sent through e-mail or SMS based on the actions performed by an end-user.
Configuration
To check the list of Triggered Campaigns, select Engage > Triggered Campaigns.
To add new Triggered Campaign, click

 on the right side of the page

Campaign:

Title: Name of the Campaign
Running Dates: Campaign start date and end date
Trigger: Action that needs to be triggered
Delay (mins): Time interval that system need to wait before sending SMS or e-mail
Status: Status of the Campaign (draft or publish)
Audience:


Parameter Type:  "Visit Based" or "Date/Time Based"
Visit Based: Campaign is triggered based on number of visits
Date/Time Based: Campaign is triggered based selected weekdays and times
Frequency: How often the campaign will be triggered
Locations: Locations where the campaign will be covered
Gender: Gender that the campaign will be covered
Age: Age range that the campaign will be covered   
Content:
Campaigns are sent to end-users based on their preferred language. Default campaign message is delivered in the English language. Therefore it is must to enter the content in English.
Select the language and select the preferred communication method (email/SMS) for the campaign. Write the message that needs to be sent to end-users in the SMS and the email text fields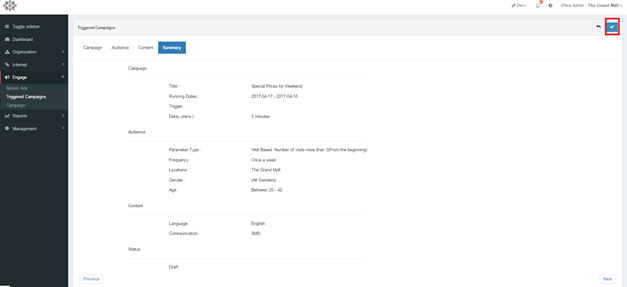 Finally, click on the summary to see the summary of the campaign and click on the
 button to publish the campaign.