To manage Settings, select Management > Settings
To see the system version and license information, select About icon 

General Page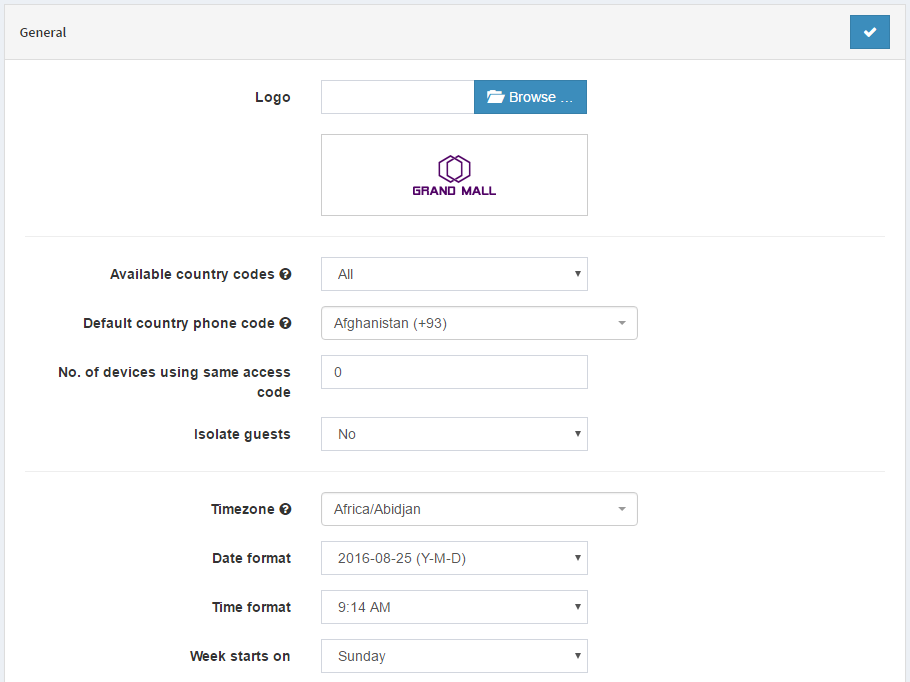 Available country codes:  To define which country codes appear on Login Page for guests to enter their mobile numbers?
Default country phone code: Select the default country code
No. of devices using same access code:  Enter number of devices can use the same Access Code at the same time (all devices will be disconnected same time even if they started in different times)
Isolate guests: If disabled users will be shared between venues (That will result in users not to register again in each venue)
Time zone: Time zone used in the system
Date format: Date format used in the system
Time format: Time format used in the system
Week starts on: The first day of the week (Ex. Dubai: Sunday, Istanbul: Monday)
Access code type: If reusable is selected the guest will keep using / receiving the same Access Code, If One time is selected every login the same user will receive different Access Code
Access code characters: Choose the access code generated character type
Access code length: number of characters used in generated Access Codes
Email Page
This page is used to define the email contents that would be received by the customer.
From name: the sender name
From address: The sender address
To:
CC:
Social
Social settings enable venues to post a message on Guest's Facebook profile after they are connected to the Wi-Fi. This is a way to market your brand on Facebook by requesting your Guests to help to increase your social presence and let friends of your guest know about your business.
All fields will be used to determine the post appearing on Facebook page of the user as below.